This brewery-of-the-day has passed.
Greene King
September 23 @ 00:00

-

23:59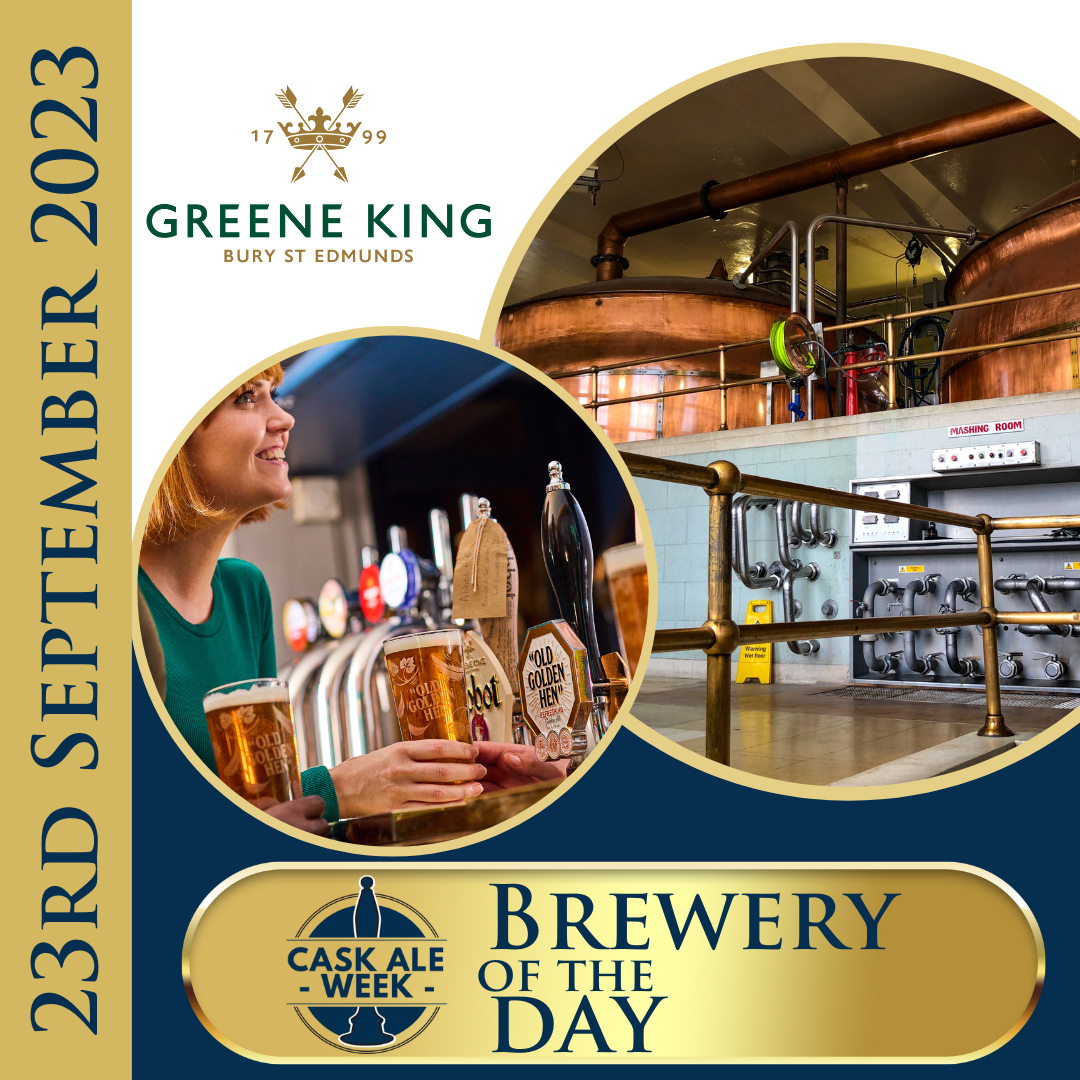 Greene King has been crafting quality beers from its historic breweries in Bury St Edmunds and Dunbar for over 200 years.
The Westgate brewery, in Bury St Edmunds, has been the home of Greene King since 1799 and its leading cask ales are brewed here, including Greene King IPA, Old Speckled Hen and Abbot Ale, as well as a broad range of seasonal and speciality beers.
The Belhaven Brewery is nestled in Dunbar on the beautiful East Lothian coast. As Scotland's oldest working brewery, established in 1719, Belhaven brews several nation favourites, including Belhaven 80 Shilling.
Permanent Cask Ale Brands:
• Abbot Ale is a 5% ABV traditional cask ale with a brewing process that has hardly changed over hundreds of years. Brewed for longer, the ale has masses of fruit character, malty richness, and a superb hop balance. At this year's Great British Beer Festival Abbot Ale was awarded silver in the Champion Beer of Britain Award and gold in the Premium Bitter category.
• Greene King IPA, 3.4% ABV, is the brewery's flagship beer. First brewed in Bury St Edmunds over 90 years ago, this is an easy drinking, session cask ale with a hoppy taste and aroma making it clean, crisp and moreish.
•  Old Speckled Hen, 4.5% ABV, is a British ale that was first brewed to commemorate the 50th anniversary of the MG car factory in Abingdon, Oxfordshire. The premium cask ale continues to be a finely balanced beer with a distinctive rich, malty taste and fruity aroma. Old Speckled Hen is also the only traditional premium ale to be supported by national TV advertising.
• The Hen family also offers another permanent cask favourite, Old Golden Hen (4.1% ABV), a light golden ale that delivers both flavour and refreshment.
• Belhaven 80 Shilling is a 3.9% rich Scottish ale with a classic red appearance with notes of toffee and soft fruit flavours.
Seasonal Calendar
This year, the Suffolk brewer launched its Fresh Cask Releases calendar, a portfolio of 18 different cask beers, available at specific times of the year. The calendar has been filled with a combination of returning favourites, key calendar creations linked to sporting occasions and national celebrations, collaborations, and new ales, inspired by legendary stories of the people and places associated with beer.
For September and October, Fresh Legs, a golden 4% ale will be available to celebrate the Rugby World Cup and offer the perfect pint to enjoy while watching the sport. Making its return, Bonkers Conkers, brewed with over five different hop varieties will also be available with a refreshed pump clip for September only.
The launch of Cask Pins
In July this year Greene King launched the 4.5-gallon pin to market, meaning pubs will have the opportunity to manage a lower throughput at quieter times. The seven-figure investment means that by offering a smaller unit for operators, cask can have its rightful place on the bar even at quieter drinking periods or even provide an opportunity to expand current range.
Proud to Pitch In
Greene King IPA launched its funding initiative two years ago, where a portion of sales of the beer are utilised to fund grassroot and community clubs around the UK. Clubs can apply for up to £4,000 for much-needed support to enable then to continue to play the sports they love. So far, Proud to Pitch In has granted over £500,000 to over 200 clubs, with the ambition to give away £1 million.
Cask Iron Guarantee
The brewer continues to support its free trade customers with the Cask Iron Guarantee, where customers with Greene King cask ales can receive a refund for un-broached, and credit for remaining volume on broached casks, for out-of-date cask. Terms and conditions apply, customers should contact their Greene King sales representative for full details.
Visit the Greene King website – www.greeneking.co.uk
Visit the Belhaven website – www.belhaven.co.uk